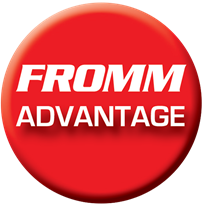 At FROMM Packaging Ltd we have built a reputation as the trusted packaging supplier in the UK and we go above and beyond to meet and exceed our customer needs. We take great pride in ensuring that we provide the right products and services to all our customers.
We have developed a new statement called the FROMM Advantage. The FROMM Advantage is a list of 10 reasons which define why FROMM is the global leader in end of line packaging solutions.
Innovation
Innovation is a major driver of our business and key to our success. Our product development and technical teams work closely with you to understand the manufacturing environment and your requirements. This knowledge allows us to design solutions that will increase your production output. We are always researching and developing new products to ensure we are innovators in the industry.



Vertical Integration
As a vertically integrated packaging equipment manufacturer we have full control of all stages of the process and this allows us to develop new innovative products to meet your needs. From engineer scoping to manufacturing and installing machines to tape cartons, palletise, strap and wrap your goods, FROMM manages the entire manufacturing process so we can guarantee quality and reliability from every product we make.



Customer Satisfaction
Customer satisfaction is our priority. We go above and beyond to meet and exceed our customer needs. We take great pride in ensuring that we provide the right products and services to all our customers.



Technical support
Our technical team of engineers has over 13 years of experience in servicing and specifying the right packaging equipment for your needs. We will work with you to develop the best solution for your business.



Local

FROMM Packaging Ltd is local to you. We have products ready to ship and technicians available to create packaging solutions for your business, no matter where you are in the United Kingdom (for global locations, please visit our contact page).


Full maintenance service
FROMM offers a complete range of maintenance service options. From regular scheduled inspection programs to ensure your systems run at their best, through to complete shutdown and major project supply and installation. Our expert technicians look after your packaging equipment, freeing you to focus on running your business.



Back up equipment
FROMM is the only packaging manufacturer that has a range of back up loan equipment on hand and ready for dispatch if you experience any technical problems. This will ensure you are back up and running as quick as possible with minimal fuss while we repair your machine.


Stock commitment

FROMM guarantees that all our main product lines are available for immediate dispatch from one of our warehouses. You will never experience long wait times or delays due to product being shipped from an international warehouse.


Shipping simulation testing
FROMM has specialised and accredited testing equipment where we can replicate transport movements to ensure your load is packaged to the highest standards. These tests are usually performed at our R&D Centre in Germany, but some can also be done at the customer site.

Be it a product that is already strapped, wrapped or a new application we can test various packaging methodologies to the rigors of G forces.

The data is recorded and recommendations made to maximise performance whilst minimising expense. This service covers both strapped or wrapped product and gives our customers confidence in the value we offer.



Accredited manufacturing facilities
All FROMM products undergo strict quality testing and comply with ISO9001 certification. This accreditation is your assurance of quality in our production process, technical support and the finished product.